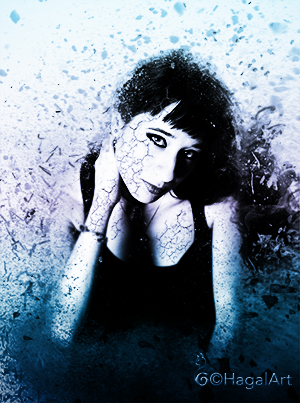 Giada Zammitti aka HagalArt. Photo manipulation
Welcome!
I'm a visual artist from Italy, a lucid dreamer and a great cat lover. My professional experiences range from graphics, illustration (digital and analogic), website creation, and multimedia content management.
All of my art comes from the experiences I collect while diving into my inner worlds. Spontaneous lucid dreaming, shamanic journeys, meditation on symbols and beliefs of ancient cultures from all over the globe. But also the events of my life and, of course, the teaching of my greatest masters: my cats.
There I find the source of my inspiration as well as the purpose of my artistic expressions.
Drowning in the seas of emotions to reach the point where dreams and reality are tightly woven.
To cast light on what's unconscious, undefined, thus scary for all of us to face.
To overcome the boundaries of the artificial selves (family-made, society-made, conventions-made) and get to our genuine essence.
My art is, in the very end, my ultimate path to consciousness.
I like to give it a form through many products: canvas, t-shirts, bags, mugs and much more. So that anyone could pick his/her favorite way to communicate with me.
For those who like words, feel free to contact me for commissions or just to have a chat!
With purr(e) love,
Giada